Legal Matters Scotland has partnered with Millar & Bryce to create a Spotlight on the Renewables sector, including the latest newsworthy projects, thinking and case studies driving the media agenda in Scotland and the wider UK.
RENEWABLE ENERGY
Scottish government launches net-zero strategy
The Scottish Government has launched its strategy for "economic transformation" towards a net-zero economy over the next decade. Details will be forthcoming over the next 12 months under the banner, the Just Transition Plan. First Minister Nicola Sturgeon said a £500m fund will help the oil and gas reliant regions of the northeast and Moray to make the transition to renewables, and the government is to invest £240m in an Energy Transition Programme that will fund industry to play a leading role in the development of relevant new technologies. There will also be a drive towards decarbonising Scotland's bus network backed by £50m this year through the new Scottish Zero Emission Bus Challenge Fund. Claire Mack, Chief Executive of Scottish Renewables, said: "Scottish Renewables is pleased to see the ambition to achieve net-zero at the core of this Programme for Government and the link being made between economic growth, achieving net-zero and further development of renewables. Recognition of the opportunities that exist in renewable energy deployment and the need to address challenges around supply chain growth and transitioning jobs as a partnership with industry is helpful and welcome."
Scotland's green energy sector 'held back' by UK grid charges, MPs say
Scotland's progress on renewables is being hindered by grid connection charges, according to MPs on the Scottish Affairs Committee who have called for transmission charges and grid investment to be equally shared across the UK. The committee wants an urgent review of the costs which it claims are putting Scotland's green power sector at a disadvantage when compared to the sectors in England and Wales which pay no or lower fees. Under the current system, charges apply to connect to the grid in Scotland, but in Wales developers are actually paid to connect to the grid. A report from the Commons committee says the development of renewable projects in Scotland will be affected by the issue because it reduces confidence in investment. The MPs' report said: "The financial burden of transmission charges and grid investment needs to be justly shared across the UK and not fall heavily, and unjustly, on the developers of renewable energy projects in Scotland. The current review by Ofgem about locational transmission charges is not happening at a fast-enough pace."
Plans to allow oil and gas workers to transfer to renewable energy roles
The SNP-Greens government is drawing up plans to allow oil and gas workers to transfer to renewable energy jobs without having to shoulder the burden of retraining costs that are currently acting as a barrier to Scotland's renewables revolution, reports The Herald. Officials are to set out plans for a 'just transition' for oil and gas workers into renewables but have been criticised for a failure to bring forward 130,000 green jobs as promised.
Balfour Beatty awarded £85m contract to provide sustainable energy to West Scotland
Balfour Beatty has been awarded an £85m contract to deliver the second phase of overhead line works to the West of Scotland. The company will design, construct and engineer a 45km 275kV double circuit overhead line between existing substations at Port Ann and Crossaig to reinforce the local network and facilitate the connection of new renewable energy to the grid. Belfour Beatty was awarded the contract after having successfully completed phase one of the project, whereby 37km of 275kV double circuit line was installed between Invararay and Port Ann.
EMISSIONS
INEOS will invest an additional £1bn in Grangemouth
INEOS is to invest an additional £1bn in Grangemouth, its integrated refinery and petrochemicals complex in Scotland, in the next phase of reducing greenhouse gas emissions to net zero by 2045. The refinery and petrochemical complex near Falkirk in Scotland will be fuelled with hydrogen and its CO2 transported for geological storage by 2030, its owners have said. Grangemouth is owned and operated by INEOS and Petroineos, a joint venture formed between INEOS and PetroChina in 2011. INEOS acquired Grangemouth in 2005, and has so far delivered a 37% reduction in net CO2 emissions. Scotland's net zero secretary Michael Matheson said: "Low-carbon hydrogen offers the swiftest decarbonisation route for our industrial sector and today's commitment by INEOS makes an even stronger case for the UK government to select the Scottish Cluster, which INEOS partnered with in the summer, to be among the first CCS clusters to be awarded funding through its current cluster sequencing process."
Millar & Bryce proudly work with the Renewables' sector to provide tailored search solutions and reports to support the progression of green energy across Scotland.
Because of the complexity of many renewable energy projects, M&B understand the need to be flexible in our solution offering to best help our customers meet their specific project outcomes. Whether its ownership enquiries or full Site Assembly Solutions, our team consult with you to ensure the smooth delivery of vital information pertinent to your needs. Our experience in identifying interests in land and our associated GIS mapping solutions, help in advising early planning, site assembly and feasibility studies. Coupled with our range of specialist reports that are available from the wider Landmark Information Group, we can provide the necessary information to enable you to complete due diligence and highlight any potential issues early to help projects complete on time and within budget.
WIND POWER
Ørsted reveals multibillion-pound plans for Scotland
Ørsted plans to invest £12bn in Scotland if it is successful with all five of its bids in the ScotWind offshore wind auction. Denmark's largest energy company has entered bids for five projects: two floating wind-only bids as part of its joint venture partnership with BlueFloat Energy and Falck Renewables, and three which include a mix of fixed and floating wind technologies. Martin Neubert, chief commercial officer at Ørsted, said: "We believe our bids represent a significant contribution to achieving Scotland's ambitious climate change targets and will underpin the country's renewable energy economy for generations." Duncan Clark, head of UK region at Ørsted, is interviewed by The Scotsman. He says the ScotWind leasing round is "a pivotal milestone" for the Scottish renewables industry and delivering on Scotland's climate change targets, as well as bringing long-term jobs and skills to communities.
4C offshore, insider.co.uk, Power Technology, The Scotsman
Wind energy beckons for Scotland
The New York Times reports on how floating wind turbines, such as those off the fishing port of Peterhead, just north of Aberdeen , offer an opportunity for Scotland to expand wind technology to deeper parts of the ocean. The $230m array, floating in water about 300 feet deep, benefits from stronger and steadier wind that means it tops all British offshore wind farms in the ratio of the energy it pumps out to its theoretical capacity — about 54%. "We can go to deeper water, higher wind speeds," said Ben Lawson, the operations and maintenance manager for the wind farm, which is majority-owned and operated by Equinor, the Norwegian company. "It is not to be underestimated how important the success of this project is." The Times notes the relative decline in oil and gas production in the North Sea, and says First Minister Nicola Sturgeon's recent call for Britain's government to revisit licenses already granted for offshore oil fields still in the planning stages "sent shock waves through the industry because approval of such licenses is usually a foregone conclusion." Ms. Sturgeon asked UK Prime Minister Boris Johnson to reassess the projects "in light of the severity of the climate emergency we now face."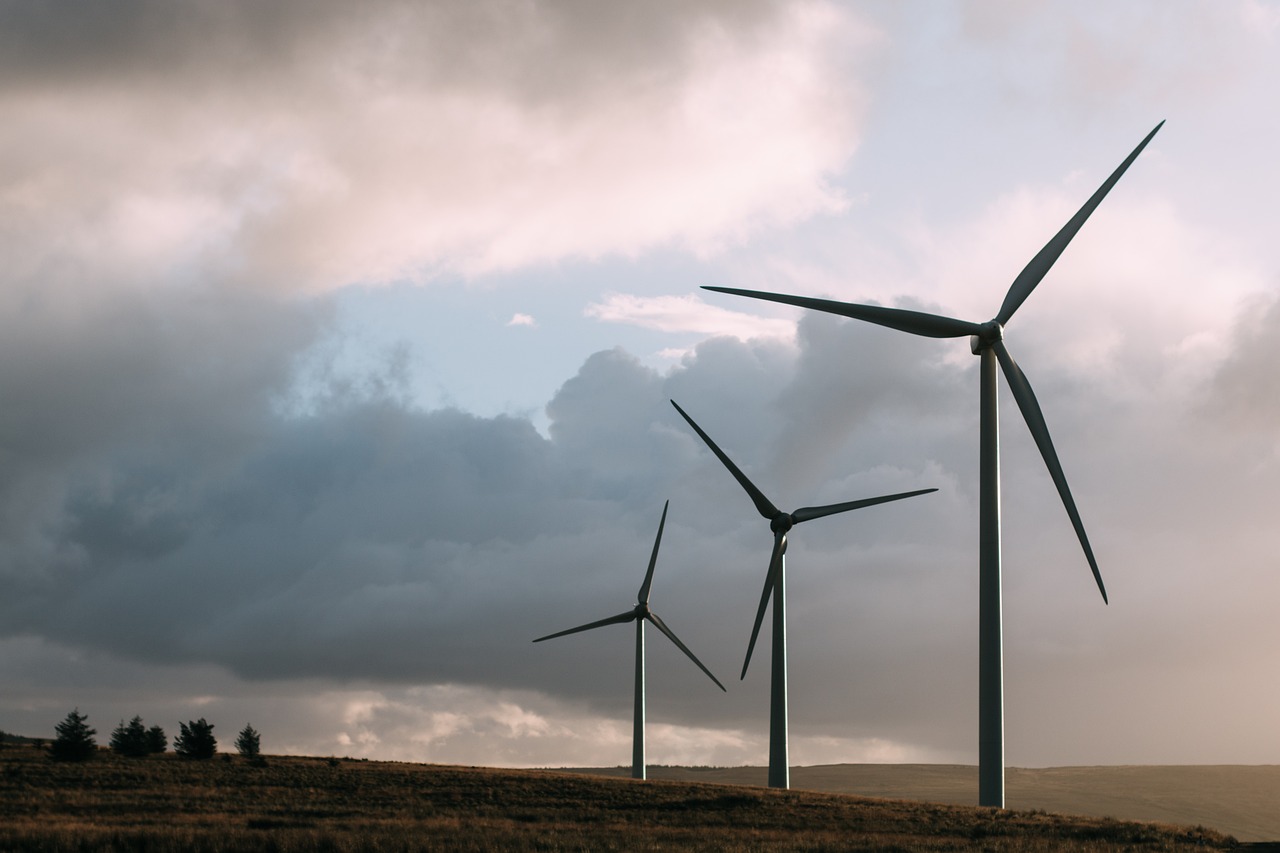 Crown Estate Scotland to launch new leasing process
Crown Estate Scotland has announced a new leasing process for offshore wind farms to help decarbonise Scotland's oil and gas sector. The process is entirely separate to the ScotWind Leasing round. It's specifically designed for offshore wind farms which support the decarbonisation of the oil and gas sector, as well as small scale innovation projects of less than 100MW. Crown Estate Scotland plans to open the leasing process for applications early next year. Oil and Gas Authority director of operations Scott Robertson said: "This is a big opportunity for industry to lower its carbon footprint while investing in offshore infrastructure to support the faster growth of wind power in Scottish Waters, all contributing to UK net zero."
Plan to build a giant offshore wind farm off Scotland's east coast
A giant offshore wind farm off Scotland's east coast would be UK's largest and could power all Scottish homes twice over, reports The Scotsman. SSE Renewables' proposed 4.1 gigawatt Berwick Bank "super project" would see 307 of the world's most powerful turbines – standing up to 355m from sea level to blade tip – built in the Firth of Forth and located around 40 kilometres off the Fife and East Lothian coastlines. The scheme would generate enough green energy to power more than five million homes and save around eight million tonnes of carbon dioxide annually. The Scotsman says the array, which is an amalgamation of earlier Berwick Bank and Marr Bank proposals, is already at an advanced stage of development after 10 years of research and analysis. Alex Meredith, SSE's project director for Berwick Bank, says the project would play a key part in achieving national emissions reduction targets and consent would demonstrate Scotland's leadership ahead of COP26.
Bid launched to build 2GW offshore wind farm west of Orkney
French oil major TotalEnergies, which is seeking to increase its involvement in renewables, is partnering with Macquarie's Green Investment Group (GIG) and Scottish developer RIDG in a bid for an offshore wind project in an area west of the Orkney Islands. The two-gigawatt proposal has the potential to power more than two million homes and is currently being evaluated by the Crown Estate Scotland as part of the ScotWind leasing round. "Scotland has been a pioneer in the deployment of renewable electricity – and now, through projects to be delivered via ScotWind, we believe it could play a role in showcasing a deep and economy-wide energy transition. By working with local partners, we can ensure that we create sustainable, long-term jobs in Caithness and Orkney as part of this transition to a net-zero economy" said Edward Northam, Head of GIG Europe.
Community ownership of offshore wind farms
Renewable energy platform Ripple has joined the NextGen consortium which is pursuing seabed development rights within the Crown Estate Scotland ScotWind leasing round. The consortium said the partnership will help bring community ownership to the offshore wind sector for the first time in the UK, and ensure a meaningful proportion of future Scottish offshore wind projects are available via Ripple's consumer ownership platform. David Woodhead, Innovation Manager for NextGen, said: " We are really excited about this partnership and see great potential in Ripple's innovative platform, both to enable meaningful consumer ownership of an offshore wind project for the first time, and as a vehicle to support wider local benefits in the Scottish communities neighbouring our wind farm projects. We look forward to working with them as a project delivery partner to develop a model which works for the offshore wind sector."
Energy Live News, Offshorewind.biz
World's largest floating wind farm starts operating
The installation of wind turbines at Kincardine, the world's largest floating wind farm and which is forecast to provide over 200,000 MWh per year to the Scottish grid, enough to power over 50,000 homes, marks the commencement of the long-term Power Purchase Agreement (PPA) between Statkraft and Kincardine Offshore Windfarm Ltd (KOWL). Statkraft will purchase all electrical output from the project with a guaranteed minimum price per MWh until 2029. Jaime Altolaguirre, KOWL's Managing Director from Cobra Group, a major shareholder in KOWL, said: "We wanted a counterparty who had offshore wind experience in the UK and a track record with UK law firms, funders and investors. Statkraft, as Europe's largest supplier of renewable energy, stood out due to their own large-scale investment and operational experience in this region. This solid experience allowed them to provide bankable and competitive commercial terms and to agree them quickly."
The Port of Leith welcomes onshore wind turbines to bespoke renewables facility
Eight onshore wind turbines have arrived at the Port of Leith as part of the 16 MW Howpark wind farm to be located in the Scottish Borders. Kenny Williamson, Deputy Port Manager at The Port of Leith said: "It is great to see the Port of Leith busy with onshore renewables. Projects such as these demonstrate our flexibility and capability to handle renewables project work."
Scottish Business News, Energy Global
HYDROPOWER
Private investors 'need confidence' in Scotland's tidal energy future
The government's renewable energy vision is threatened by technology 'gaps' that are putting off private investors, says Scottish National Investment Bank chairman Willie Watt. Mr Watt claims the crucial private sector funding that is needed to get tidal power and green hydrogen industries up and running in Scotland is being put off by a lack of proven technology. Westminster politicians have been told to send a clear message that they have confidence in the innovation in order to attract the necessary investment amid warnings that the technology could be scaled up first overseas, despite Scotland's huge potential to grow the sectors, reports The Herald.
Three companies receive funding to help spur growth of wave energy
Three wave energy projects have received funding as Scotland progresses its mission to achieve an ambitious target of reaching net zero carbon emissions by 2045. Wave Energy Scotland (WES) has awarded a total of £1.8m to be shared among three companies, Apollo, Blackfish Engineering Design and Quoceant. Apollo's PALM (pull and lock marine) connector facilitates faster hooking of marine energy devices to their moorings and electrical cables; Blackfish's C-DART system can help reduce the cost of energy for wave and tidal devices in several ways; and Quoceant's Q-Connect system is designed for rapid and safe connection and disconnection of moorings and electrical cables to marine renewable devices in a single operation.
To make sure you stay abreast of the latest Scottish legal developments, make sure you sign-up to receive Legal Matters Scotland free each weekday morning.